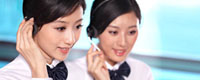 E-mail: sales@yjbigchef.com
Add: Add: NaJin 7th Road, YangDong Ind. Zone, YangJiang, GuangDong, China. 529900


Product name : Resin Watermelon Knife with Sheath

Product No. : TBC15-WK007
Details:
. This is a terrific addition to any kitchen.
. The perfect utensil for cutting watermelon or other large fruit.
. The ceramic coating resists staining and the serrated edges slice through watermelon like butter.
. A must have for anyone who hates the chore of cutting through the tough rind often found on watermelon and cantaloupe.
. Makes a great gift for yourself & others!